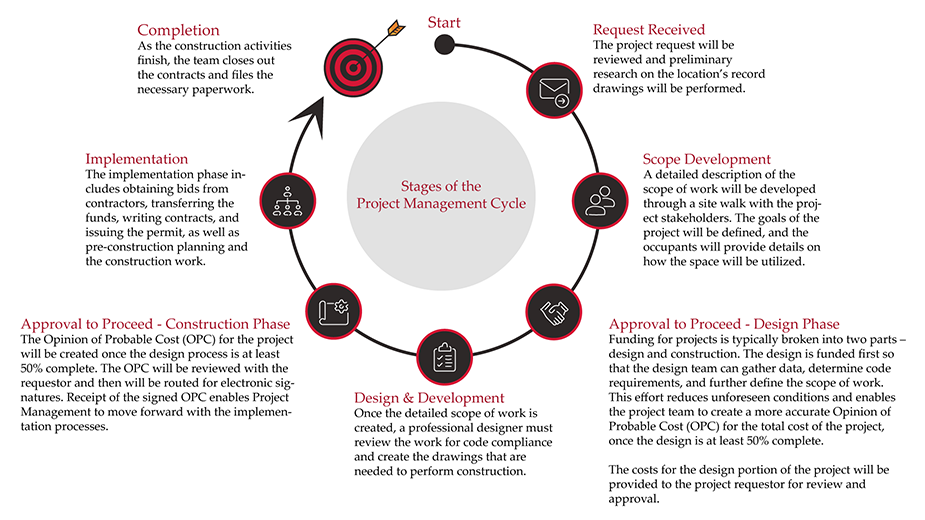 Please note, all project requests are routed through the Facilities Services work order request (AiM) system. Project requests will be reviewed and assessed for assignment to either Facilities Services or Project Management. Generally, projects are completed by multiple trade shops with possibility of involvement by outside contractors.
Work requests can be submitted throughout the calendar year.
Upon receipt of the project request, the team will review the details and will reach out to the requestor to learn more about the project's goals and set up a time to walk through the site.
The Opinion of Probable Cost is a budgeting tool to help the department understand what the project could cost based on the preliminary information gathered.
Once the OPC has been created, the team will review the details with the requestor.
The OPC is then routed to the department's financial approver for approval to proceed with the project.
If approved, Project Management will process the paperwork to transfer the funds to the project account.
Project Management will obtain contracts for the design and will manage the design development process. This includes gathering input from the users of the space, ensuring all agency reviews are completed, and reviewing the design documents.
Once the construction documents are created, Project Management has the information needed to create a more accurate estimate of the cost of the project. An updated estimate can be provided, as needed.
Project Management will obtain the permit and manage the bidding and award process for any contracted work.
Pre-construction planning will include establishing the schedule, issuing campus notifications, coordinating logistics and any utility shutdowns, and any other details of the project.
Construction and inspections
Get in Touch
Office location: Facilities Services, Room: FS-109
Office hours: Monday-Friday, 8 a.m.-3 p.m.
Project Management
5500 Campanile Drive
San Diego, CA 92182-1401 (Mail Code: 1401)
Need to Submit a Work Request?
Together, we'll work toward getting your project started!